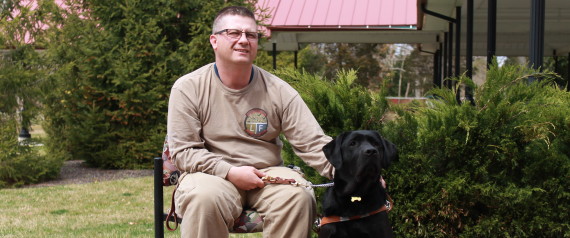 Richmond Times-Dispatch
by Brandon Shulleeta
It's been seven years since retired Army Staff Sgt. Brian K. Pearce awoke from a two-month coma, wondering, "What the heck is (my wife) doing in Iraq?"
His last clear memory was of his Humvee jerking violently and the smell of explosives.
Shrapnel from the roadside bomb shot through his skull, leaving him with a narrow field of vision, much like peering through a straw. In the years that followed, he also would battle short-term memory loss and post-traumatic stress disorder, among other problems.
While his road to recovery included some "really dark days," Pearce said, teaming with a guide dog less than a year ago has helped him regain independence.
"I feel like a human again," he said.